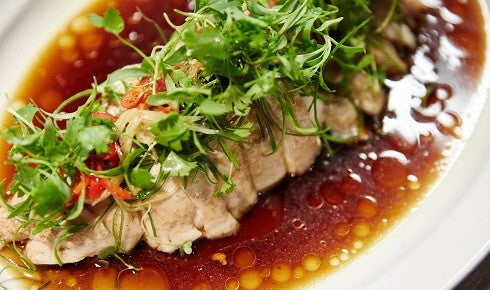 ---
| Ingredients | Serves | Prep Time (Minutes) | Total Time (Minutes) |
| --- | --- | --- | --- |
| 18 | 6 | 30 | 200 |
---
INGREDIENTS

1.6kg free-range chicken

2 tablespoons peanut oil

¼ cup coriander sprigs

pinch of ground white pepper

White Master Stock

6 litres cold water

750ml (3 cups) Shaoxing rice wine

8 green onions, trimmed and cut in half crossways

12 cloves garlic, peeled and crushed

1 1/2 cups sliced ginger

1/3 cup sea salt

Dressing

60ml (¼ cup) light soy sauce

2 tablespoons of White Master Stock

1 tsp sesame oil

½ tsp white sugar

1/3 cup julienne spring onion, plus extra to garnish

1 tbsp julienne ginger, plus extra to garnish
DIRECTIONS
Place all stock ingredients in a large stockpot and bring to the boil. Reduce heat and simmer gently for 40 minutes to allow the flavours to infuse.
Rinse the chicken under cold water. Trim away excess fat from inside and outside cavity, but keep neck, parson's nose and winglets intact. Lower chicken, breast side down, into simmering stock, ensuring it is fully submerged. Poach chicken gently for exactly 14 minutes. There should be no more than an occasional ripple breaking the surface; adjust the temperature if necessary, to ensure stock does not reach simmering point again. Remove stockpot immediately from the stove and allow chicken to steep in the stock for 3 hours at room temperature to complete the cooking process. Using tongs, gently remove chicken from the stock, being careful not to tear the breast skin. Place chicken on a tray to drain and allow to cool.
Meanwhile, make the dressing: combine soy sauce, stock, sesame oil, sugar, spring onion and ginger in a bowl and set aside. Heat peanut oil in a small frying pan until moderately hot and carefully pour over dressing.
Chop the chicken Chinese style* arrange on a platter and pour dressing over chicken. Garnish with coriander and sprinkle with pepper.
*Chopping a Chicken Chinese Style:
Place cooled chicken on a chopping board breast side up
With a sharp knife or cleaver, make an incision along the centre of the breast
Using the heel of your hand, apply pressure to the top of your knife and chop through the breast bone
Ease apart the two halves of the chicken with your hands and the knife
Cut down one side of the breast bone and separate the two breasts
Cut the wing off from each breast and set aside
Make an incision between the drumstick/thigh and the breast
Cut bony pieces from the breast and discard
Chop each drumstick/thigh into slices about 5cm x 2cm and arrange on a platter
Chop each breast across the bone into slices about 7cm x 2cm
Finally, cut each wing in half and arrange