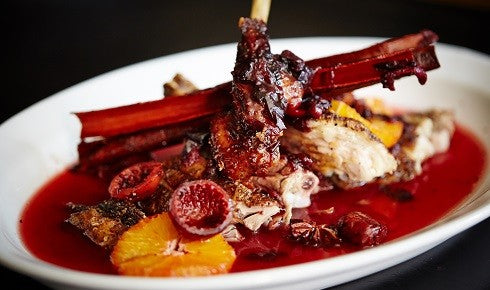 ---
| Ingredients | Serves | Prep Time (Minutes) | Total Time (Minutes) |
| --- | --- | --- | --- |
| 12 | 4 | 60 | 120 |
---
INGREDIENTS

1 × 1.5 kg free range duck

2 tablespoons Sichuan pepper and salt

¼ cup (35 g) plain flour, safflower or sunflower oil, for deep-frying

 

Citrus Sauce

1 cup (250 ml) water

1 cup (220 g) brown sugar

⅓ cup (80 ml) fish sauce

6 star anise

2 cinnamon quills

1 orange, peeled and sliced crossways

Juice of 3 limes

*For a fresh finish, add either oranges, mandarins or plums to the sauce, depending on the season.
DIRECTIONS
Rinse duck under cold water. Trim away excess fat from inside and outside the cavity, and trim off neck, parson's nose and winglets. Pat dry and rub the skin all over with Sichuan pepper and salt. Cover duck and place in refrigerator to marinate overnight.
Transfer duck to a large steamer basket. Place basket over a deep saucepan of boiling water and steam, covered securely, for approximately 1¼ hours, or until the duck is cooked through (to test, insert a small knife between leg and breast – the juices should run clear). Using tongs, gently remove duck from the steamer and place on a tray, breast-side up, to drain. Allow to cool slightly, then transfer to refrigerator to cool further.
Meanwhile, make the citrus sauce. Combine water and sugar in a small pan and bring to the boil. Reduce heat to low and simmer, stirring occasionally, for about 7 minutes, or until slightly reduced. Add fish sauce and spices and simmer for a further minute. Stir through lime juice and orange, then remove pan from stove.
Place cooled duck breast-side up on a chopping board and, using a large knife or meat cleaver, cut duck in half lengthways through breastbone and backbone. Carefully ease meat away from carcass, leaving thighs, legs and wings intact. Because the duck has been cooked through completely, the meat should come away from the bones very easily. Lightly toss duck halves in flour to coat, shaking off any excess.
Heat oil in a hot wok until the surface seems to shimmer slightly. Deep-fry duck halves one at a time, for about 3 minutes on each side, or until well-browned and crispy. Using tongs, carefully remove duck from oil and drain well on paper towel, then leave to rest in a warm place for 5 minutes while you gently reheat the citrus sauce.
Finally, with a sharp knife, cut the duck into pieces and arrange on a serving platter. Spoon over hot citrus sauce and serve immediately.