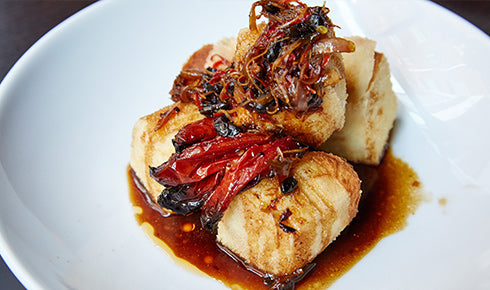 ---
INGREDIENTS

1 x 300 g packet silken tofu

1/3 cup plain (all-purpose) flour

Vegetable oil for deep-frying

pinch Sichuan pepper and salt (see recipe below)

Sichuan pepper and salt

1 tbsp Sichuan peppercorns

3 tbsp sea salt

Black bean and chilli sauce

¼ medium-sized red pepper

2 teaspoons light soy sauce

1 tablespoon vegetable oil

2 teaspoons oyster sauce

½ small red onion, finely sliced

2 teaspoons white sugar

1 tablespoon ginger julienne

 2 teaspoons malt vinegar

2 small garlic cloves, roughly chopped

¼ teaspoon of sesame oil

2 teaspoons salted black beans

1 large red chilli sliced on the diagonal

1 tablespoon shao hsing wine or dry sherry

1/3 cup water
DIRECTIONS
To make the Black Bean and Chilli Sauce, remove seeds and membranes from pepper, cut into fine slices and set aside. Add oil to a hot wok, add onion, ginger, garlic and black beans and stir-fry over high heat for 1 minute, stirring constantly to ensure black beans do not burn. Add wine or sherry and stir-fry for 20 seconds then add soy sauce, oyster sauce, sugar, vinegar and sesame oil and stir-fry for 30 seconds. Toss in chilli and reserved pepper and stir-fry for 30 seconds. Lastly pour in water and simmer for a further 30 seconds.
Gently remove tofu from packet and invert onto a plate. Carefully slice into 6 cubes by cutting tofu lengthways in half, then widthways into thirds, draining off any excess liquid.
Heat oil in a hot wok until surface seems to shimmer slightly. Lightly coat tofu pieces in flour, and using a spatula carefully lower into hot oil – it is important not to coat the tofu in advance of heating the oil, or it will become very moist and sticky. Deep-fry tofu for about 4 minutes or until lightly browned and crispy. Remove with a slotted spoon and drain well on kitchen paper.
Arrange tofu in a shallow bowl and spoon over Black Bean and Chilli Sauce. Sprinkle with Sichuan Pepper and Salt and serve immediately.
Sichuan pepper and salt
Dry-roast peppercorns and salt in a heavy-based pan. When peppercorns begin to "pop" and become aromatic, take off the heat. Allow to cool, then grind to a powder in mortar and pestle or spice grinder (makes four tablespoons; store in an airtight container).