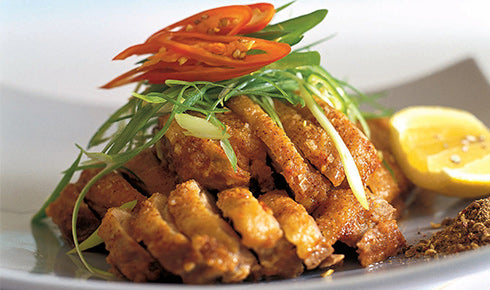 ---
"If you feel intimidated about preparing duck (it really is not that difficult), then please try this recipe using duck breasts. You steam the breasts then roll them in chilli-salt for flavour, and deep-fry for texture. Serve with Sichuan pepper and salt and fresh lemon. YUM!" - Kylie Kwong
INGREDIENTS
4 × 200 g (6½ oz) duck breasts, with skin, trimmed of excess fat
2 tablespoons plain (all-purpose) flour
3 teaspoons chilli powder
3 teaspoons sea salt
vegetable oil for deep-frying
2 tablespoons Sichuan pepper and salt (see recipe below)
1 large red chilli, finely sliced on the diagonal
2 tablespoons spring onion (scallion) julienne
2 lemons, halved
Sichuan pepper and salt
1 tbsp Sichuan peppercorns
3 tbsp sea salt
DIRECTIONS
Arrange duck breasts, skinside up, on a heatproof plate that will fit inside a steamer basket. Place plate inside steamer, position over a deep saucepan or wok of boiling water and steam, covered, for 12 minutes or until duck breasts are half cooked.
Meanwhile, in a large bowl, combine flour, chilli powder and salt. Carefully remove plate from steamer basket, transfer duck breasts to a rack and set aside for 25 minutes to cool slightly.
Add duck breasts to chilli-salt mixture and toss to coat well, shaking off any excess flour. Heat oil in a large hot wok until surface seems to shimmer slightly. Add duck breasts and deepfry for about 2 minutes or until just cooked through and lightly browned then remove and drain well on kitchen paper.
Cut duck on the diagonal into 1 cm (½ in) slices and arrange on a platter with a small bowl of Sichuan pepper and salt (see recipe below). Garnish with chilli and spring onion and serve immediately with lemon halves.
Sichuan pepper and salt
Dry-roast peppercorns and salt in a heavy-based pan. When peppercorns begin to "pop" and become aromatic, take off the heat. Allow to cool, then grind to a powder in mortar and pestle or spice grinder (makes four tablespoons; store in an airtight container).
Extract from Simple Chinese Cooking by Kylie Kwong, published by Lantern Australia on 2 January 2014, RRP $49.99