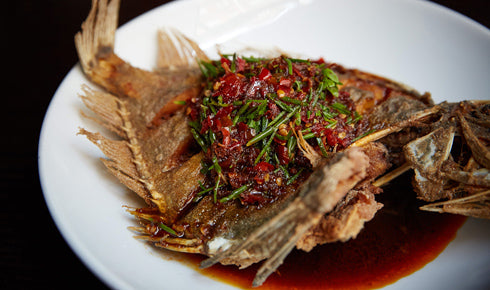 ---
| Ingredients | Serves |
| --- | --- |
| 13 | 4-6 |
---
INGREDIENTS

1 x 500-700g whole John Dory, cleaned and gutted

Vegetable oil for deep-frying

Chilli Sauce

3 x tablespoons KK's Chilli sauce (see below)

2 x tablespoon water

1 x tablespoon brown sugar

1 x teaspoon sesame oil

1 x tablespoon light soy sauce

5g x native Sea Parsley *

1 x tablespoon malt vinegar

5g x native Samphire *

*Substitute native herbs with Coriander, Mint or your preferred Asian-style herb

 

KK's Chilli Sauce - Makes 240 g (1 cup)

8 large red chillies, roughly chopped

125 ml (1/2 cup) peanut oil

6 garlic cloves, roughly chopped

½ teaspoon brown sugar

75 g ginger, roughly chopped

1 tablespoon light soy sauce
DIRECTIONS
Pat fish dry with kitchen paper and place on chopping board. With a sharp knife make four diagonal slits into one side of the fish. Turn fish and repeat on other side.
Heat vegetable oil in a hot wok until surface begins to shimmer slightly. Carefully lower fish into the wok so it is completely covered by the oil, fry for 3 minutes, then carefully turn fish and fry for a further 3 minutes or until fish is lightly browned and just cooked through when tested. The flesh should be white through to the bone; if still translucent, cook for another minute or so.  
Using a spatula, carefully remove fish from wok and drain on kitchen paper. Transfer to the serving plate and pour over hot sauce. Serve immediately.  
Chilli sauce
Place all ingredients ( except herbs ) in a bowl, stir to combine well.
Heat sauce up in a wok or frypan until sugar has dissolved and all ingredients integrated.
Toss in herbs, stir quickly, remove from heat and drizzle hot sauce over deep-fried John Dory
KK's Chilli Sauce
Process chilli, garlic and ginger in a food processor or blender until finely chopped.
Heat oil in wok until the surface seems to shimmer slightly. Reduce heat to low-medium, add chilli, garlic and ginger and cook, stirring regularly, for about 3 minutes to cook out the flavours.
Add sugar and cook for 1 minute, stirring regularly so the sauce doesn't catch on the base of the wok.
Stir through soy sauce, reduce heat to low and cook, still stirring, for 10 minutes- the sauce should darken in colour and the oil should leach out at this stage. The chilli sauce can be used straightaway or cooled and stored in an airtight container in the refrigerator for up to 1 week.
Makes 240 g (1 cup)