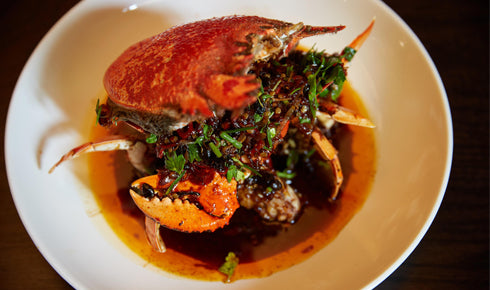 ---
INGREDIENTS

1 x 1 kg spanner crab (if live, place in freezer for 1 hour to put to sleep)

Handful native samphire

Handful native sea parsley, leaves

You can substitute mint, coriander or sweet Thai basil for the native herbs

Black Bean and Chilli Sauce

½ red capsicum

3 tablespoons shao hsing wine

3 tablespoons peanut oil

2 teaspoons brown sugar

7 green shallot stems, cut into 6 cm lengths

2 tablespoons tamari

4 ginger shards

½ teaspoon seasame oil

3 garlic cloves, crushed

1/3 cup water

3 large red chillies, cut in half lengthways and seeds removed

2 bird's eye chillies, sliced

1 small red onion, cut in half, then into wedges

2 teaspoons malt vinegar

2 tablespoons salted black beans

 

 
DIRECTIONS
1. Cut the crab in half, then cut each half into 4 pieces. Place crab in a shallow heatproof bowl that will fit inside your steamer basket. Place bowl inside steamer and over boiling water and steam, covered, for 7 minutes or until cooked – the crabmeat should be white rather than translucent.
2. Meanwhile, make the black bean and chilli sauce. Remove seeds and membranes from capsicum, cut into strips 1.5cm wide, then cut each strip into squares. Heat peanut oil in a hot wok and stir-fry shallots, ginger, garlic, halved red chillies, onion, black beans and capsicum for 3 minutes or until fragrant. Pour the shao hsing wine around the sides of the wok in a circular motion, then stir in sugar, tamari, sesame oil, water and sliced bird's eye chillies; stir-fry for 3 minutes to allow the ingredients to infuse, creating a rich sauce. Finally, add vinegar, herbs, toss to combine then remove from the heat.
3. Carefully remove crab from the steamer and toss with the sauce. Arrange on a large platter and serve immediately.