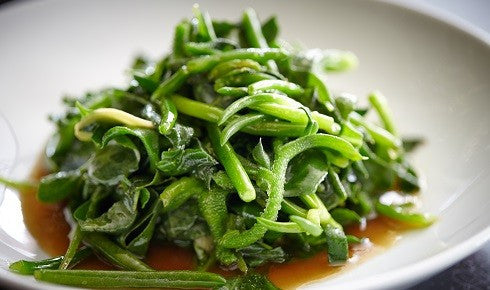 ---
| Ingredients | Serves | Prep Time (Minutes) | Total Time (Minutes) |
| --- | --- | --- | --- |
| 7 | 4 | 5 | 10 |
---
INGREDIENTS

3 tbsp peanut oil

1/2 tsp salt flakes

3 cloves garlic, crushed

200g fresh salt bush leaves

2 tbsp organic tamari

3 tbsp stock

1/2 tsp sesame oil

 
DIRECTIONS
Heat the peanut oil in a hot wok until surface seems to shimmer slightly.
Add the salt and garlic and stir-fry for 30 seconds.
Add the salt bush leaves and stir-fry for 3 minutes.
Add the tamari and stir-fry for 1 minute.
Add the stock and stir-fry further 1 minute, then add the sesame oil.
Serve immediately as part of a banquet.